Over 50 people from business, government, NGOs and academics collaborated on what the future of work might look like and what skills might this future workforce need. This was followed by a series of online workshops that gave insightful results around upskilling, reskilling and the impact of digital technologies on the future of work.
The first Future of Work event we ran for the University of Exeter was in Feb 2019. It involved over 50 people spanning large and small corporations in the professional services, NGOs and academics discussing new training the upcoming workforce might need*. Businesses wanted to ensure their workforce stayed up to date, and educational organisations wanted to offer training that was practically needed, so there was a natural synergy in purpose. We designed an imaginative, highly interactive day of thought-provoking activities. Participants were kept engaged and curious, so that by lunchtime there were 5 unique themes that emerged. By the end of the day, 14 actionable short and longer term collaborative projects had been mapped out around those themes.
Then the pandemic hit.
In July 2020, Collaborative Capacities ran a series of 5 online workshops on the Future of the Post-Covid Workplace. The themes discussed at each workshop included skills, data science and ethics. Participants discussed every aspect of workforce preparation, starting with Post-16 through to upskilling and retooling the existing workforce. The WordArt bubble below speaks volumes to the skills that the participants highlighted as most important. People skills weighted up far higher than any other skill, with digital and leadership skills coming up as close seconds.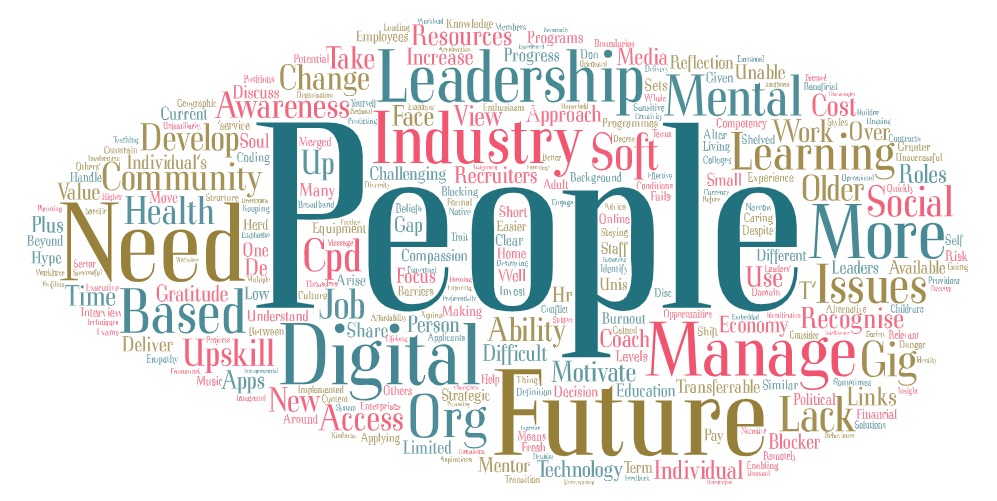 *This event was hosted by the Innovation Impact and Business group at the University of Exeter. 
"Sawsan did a fantastic job at managing the different voices in the room and flexing to the different needs and pace of the day." – Sophie Smith, Impact and Partnership Development Manager

"Her [online] workshops create a climate of psychological safety which encourages participants to openly discuss experiences and ideas." – Professor Ilke Inceoglu, University of Exeter Business School